We recommend in addition checking our Facebook page for latest updates (it is a lot easier to update than the website!)
NEW: MAY 4th
Junction Models is the first retailer in Australia to stock the excellent Golden Valley Hobbies Barclay Industrial tank engine 0-6-0, a OO/HO scale model perfect for any small layout and at just $125 each highly affordable.
Among the other Golden Valley products we stock include useful ballast smoothers for HO and N scale as well as etched brass ladder for both scales.
NEW: MARCH 14th
We have a collection of OO and N scale vehicles, such as buses, tankers, even a Coopers Brewery truck (OO scale) in stock. AMRM and Catchpoint magazines for April have arrived.
Junction Models is proud to announce we will be the first retailer in the whole of Australia to stock the DJ Models range- our first arrivals will be the 0-6-0T J94 'Austerity' tank engines, due to arrive within a fortnight.
We also have dealings with the Expo tools range- see expotools.com to see their catalogue, currently we have a large lot of useful tools from precision steel scissors to turntable motorising kits.
NEW: JANUARY 4th
A big bunch of Hornby OO scale stock has landed on our shelves!
WE have plenty of mk1, mk 2 and mk3 coaches in both the Railroad and super detail ranges, in a variety of liveries.
Also many different types of four wheel wagons are in stock.
The Hornby 'Terrier' has returned, this time in SE&CR livery.
Haskells has graced us with more On30 items, namely two varieties of the NA class 'Puffing Billy' in both green and black, as well as the new NQR Open gondola wagons.
For fans of the 2000 class railcars, a great new book by Railmac, 'Jumbos- the Early Days' is in stock for only $7.50
NEW: DECEMBER 1st
 We are now the only shop in Adelaide that stocks the excellent Parkside Dundas range of English outline kits. We have started with the OO and OO9 narrow gauge ranges and will be adding more kits as time goes on. The company also makes a large number of O scale (and a smaller number of N scale kits), please talk to us if you would like to place an order for these items. The full range can be viewed on the Parkside Dundas Website, we can order in anything that is currently in stock.
Also only stocked by us is the Aussie Card Models range of printed card kits (normally available only via eBay). These are HO scale (occasionally N) mostly South Australian in design. The newest release is a HO scale 8 Cell Grain Silo.
NEW: NOVEMBER 3rd
Arriving into stock on Thurs Nov 3rd are some very keenly priced English OO scale items.
For those who'd like a sound fitted loco a Hornby Class 40 in BR Blue will suit them nicely and priced at under $200 it is a great addition to any layout. As a matter of interest the Class 40 used the same engines as on the SAR 900 class diesel making them an excellent match (barring the horns unfortunately!). Further lower cost items from the Hornby Railroad range include a 'Pug', as well as two train packs which come with a loco and three wagons- one pack has a small steam engine the other being a diesel.
A rare arrival is a Heljan OO loco, namely a model of the English Electric DP2 prototype in BR two-tone green.
Some further OO scale vehicles round off the new additions, a pack containing three 'Minis' as well as two London Bus sets, one containing a bus and a 'Black cab' and the other a bus. We will be getting in further OO scale vehicles towards Christmas.
NEW: OCTOBER 5
We now have corrugated sheeting! One of our most frequent requests was for corrugated styrene or plastic sheet, new in stock is Wills brand 'Corrugated Asbestos sheet'.
We also have a variety of English OO vehicles including buses, VW vans and various cars.
NEW: SEPTEMBER 15
For the South Australian HO modeller we have a wonderful new laser cut wood 'SAR Timber Frame Cottage' kit, it looks a treat built up and can be customised to match the users' preferences.
Also of importance to South Australian Modellers, a DVD has been released featuring all the track plans of every South Australian Railway Station. A DVD of the 'Northern Railway Modellers Group' book is also available, there will not be another print run of the book.
We have some very nice new release from Hornby, the excellent 'King' class model (which was in dire need of an upgrade) which is beautifully detailed, the popular 'Adams Radial' tank engine has finally arrived, perfect for any smaller layouts, and two versions of the famous Class 08 diesel shunter are available (Network Rail Yellow, and BR Blue liveries). For the budget conscious the Hornby Railroad 'Hall' and 'Warship' classes are great buys.
A large number of brand new Woodland Scenic figures have also arrived.
NEW: AUGUST 17th
For the OO scale modellers, the brand new Hornby 'J50' class tank engine is now available, in LNER Black livery.
We also have the Hornby Railroad 'Deltic', Bagnall diesel shunter, the ever popular 'Cock o the North' P2 class steam engine, a DCC fitted version of the A4 'Mallard' in BR green livery, as well as an excellent selection of the Railroad coach range- 4 wheel coaches in various colour schemes and several GWR bogie coaches.
For 'play value' a Network Rail livery crane, and an operating 'Royal Mail' coach (which spits out mailbags and picks them up) are nice additions to any layout.
NEW: JUNE 8th
Apologies for the lack of recent updates.
We have had a large quantity of both HO and N scale Walthers kits arrive.
We now stock a new series of Woodland scenic items which have just arrived, useful scenery items to help detail your layout.
NEW: MAR 10
Junction Models now carries the full range of excellent DVDs produced by Doug Brooks, these showcase steam specials and day to day operations of the South Australian railway network during the 1980s and early 1990s.
We have begun restocking our Evergreen Styrene sheet and strips. New arrivals from Walthers in HO include 90ft Turntable kit as well as motorising units and a Lighthouse. Microtrains N scale bogies and couplers have arrived after being on back order.
NEW: FEB 25
The range of Bob Burton HO scale kits for the South Australian Modeller has been topped up, with kits of the popular wood coal gantry, Y class wagon, Blackwood water tower, fresh produce containers and lineside detailing items.
For those who have OB wagons we also have a very effective decal to give the interior walls extra detail.
NEW: FEB 18
We have restocked our Kadee coupler and accessory range.
For the N scale modellers, a Dapol 'A4' class 4-6-2 in BR Green is available.
NEW: FEB 11
A brand new arrival from Hornby is the fine new 'K1' class 2-6-0 steam loco in lined BR black.
We now stock decals for Red Hens for the former 'Limestone Coast' Railway colour scheme.
NEW: FEB 3rd
We are now stocking the brand new PECO range of wagon loads, weathering powders (as seen on the pack cover of the February edition of AMRM) and have restocked our ballasts.
Humbrol paints and aerosols are refilled.
New from Hornby in OO is the Midland/LMS Fowler '2P' 4-4-0 in Blue Somerset and Dorset Joint Railway Livery.
NEW: JAN 27
Catchpoint Magazine for January 2016 has arrived.
NEW: JAN 21
We have refilled our stock of Heki scenic items, and some arrivals from PECO including a OO/HO scale turntable kit.
The Australian Model Railway Magazine (AMRM) is due in the next few days. has arrived as of this afternoon, the February issue is now in stock!
We have further copies of the excellent book containing the photography of the late Doug Colquhoun, South Australian Steam Memories, this sold out very quickly last time so please get in quick to avoid disappointment.
NEW: JAN 14
We have had an arrival of new Hornby OO scale locomotives, including a new model of the very popular 'P2' 2-8-2 Mikado with TTS DCC sound on board, as well as a new LNER A4 in British Railways Blue livery, a special edition of the GWR Castle class, another 'Railroad' edition 'Flying Scotsman' and 'Tornado' (both DCC ready and equipped with a flywheel for superb slow running).
We are running a special price on the excellent Hornby LNER teak coaches currently in stock, you can save 10% off!
To add to our Australian models is a Powerline VR T Class in blue and gold with dual mode DCC decoder.
An unusual item in stock is a Lenz V36 0-6-0 diesel mechanical shunter, DCC fitted and boasting remote controlled uncoupling! This is on special at $270.
Further quantities of the excellent 'Northern Model Railway Group' book are in stock, and we have four available 2016 photo calendars professionally produced by the South Australian Railway Modellers Association, exclusive to us at Junction Models priced at $20 each.Get in quick cause these have been limited to only 50 total made.
NEW: JAN 7
We have hit the New Year running and are happy to announce many new arrivals!
First off we now have Austrains NR class locos in stock, available in Indian Pacific yellow (NR18), Indian Pacific Blue (NR26) The Ghan Red (NR74) and Pacific National Blue (NR102)
Our stock of Junction Models brand ballast, in varieties of 'Blue Gum', 'Kurrajong' and 'Mountain Ash' has been replenished.
A large quantity of N scale gear has arrived also: various PECO wagons and a variety of Atlas hoppers, reefers and tankers as well as two decoder equipped diesel locos. Further PECO OO/HO kits figures, scenic items and track items too.
NEW: NOV 18
We have just recieved our Walthers and Kadee orders.
Now in stock are the 2016 HO scale Walthers Catalogues, a quantity of HO scale Walthers tank and container wagons, and plenty of Kadee couplers including new Bulk packs of 25 pairs of No. 148s.
We have also received further stocks of the 'NORTHERN MODEL RAILWAY GROUP" book released by the Modelling the Railways of South Australia Convention. This is our THIRD run of these books so that gives an indication of how well they are moving! See the review in the December issue of AMRM.
Also both the December 'Australian Model Railway Magazine' and the November issue of 'Catchpoint' have arrived.
NEW: NOV 12
G scale modellers will be happy to know that we have received an order of LGB items.
For Christmas we have this new 'Christmas Streetcar Starter Set', containing a suitably decorated tram a circle of track and a controller.
Further along the Christmas theme is this attractive 4 wheel coach.
Finally a brand new set, 'Freight Train Starter Set', consisting of an American styled steam loco, a 4 wheel wagon and a caboose.
NEW: NOV 4
Back in stock are PECO HO/OO and N scale Starter Track sets, Wills building sheets, OO scale Metcalfe kits and Powerline Starter Australian HO train sets.
A brand new addition is a range of A4 sized Self-healing cutting mats perfect for every modellers' workbenches.
For the American Modellers a keenly priced RDC-2 Budd Car is a surprise arrival!
The latest Hornby OO scale train set, 'Master of the Glens', comprising the fabulous LNER P2 2-8-2 locomotive, three LNER teak coaches, a controller, track and 'Trakmat' is on our shelves now as well.
Further Hornby rollingstock in OO is also in evidence, plenty of 4 wheel wagons among them.
PRICE DROP: Don't forget we currently have 5% off ALL Hornby and Bachmann OO scale buildings.
NEW/RESTOCKED: OCT 29
We have just received a very large order of Woodland Scenics and Heki scenery items.
New from Hornby in OO scale is the 'S15' mixed traffic loco in BR black with 8 wheel bogie tender. (pictures to follow)
Our stock of PECO points has also been replenished. Further Kestrel kits in N scale have arrived as well as stocks of Metcalfe card kits.
BACK IN STOCK: OCT 22
We have replenished our supplies of both DC and DCC Controllers.
For the DC user we have  the Gaugemaster 'Model Combi' 12v transformer and controller.
For DCC there is the MRC "Prodigy Express" control system.
Kestrel N scale kits are back in stock, and a new Humbrol solution called 'Decal Fix' has arrived to help you apply decals to your models better.
NEW: OCT 18
We have commenced carrying the models in the Reynold Rail N scale range- SAR W class wagons, DW vans and lineside pieces (water tanks etc) are part of our initial stock.
For the OO scale modeller this interesting new Hornby Railroad 'Flying Scotsman' has arrived with the new Hornby 'TTS' Digital sound system, a way of providing sound equipped locos at a lower cost. The combo is good value and the sound is also surprisingly good.
We have two copies of the new book featuring classic shots from the Victorian Railways (Broad and Narrow Gauges) by profilic author Nick Anchen, 'Railways of the Oven and King'.
NEW: OCT 8
Further stocks of Peter Boorman N scale kits have arrived: a SAR Bluebird Railcar kit set (250/100), GM1 body, 8300 brake vans and decals for the Overland cars.
Please contact us if you would like us to order anything specific in the range.
Further stocks of HO scale kits in the Bob Burton range have also arrived: SAR/AN C class cattle cars, a 15 ton coal gantry and Stone culverts for bridges.
NEW ARRIVAL: OCT 1
Finally we have recieved stock of the magnificent Hornby OO scale LNER P2 class 2-8-2, 'Cock O' the North'.
Despite featuring in the 'Railroad' lower cost range  the model feature a 3 pole flywheel equipped DCC ready motor, NEM coupling boxes (so you can easily change coupler types) and superb smooth performance.
The model has been a big seller overseas and our stock will surely not last long. ONLY ONE LEFT IN STOCK!
Hornby OO scale P2 'Cock o the North'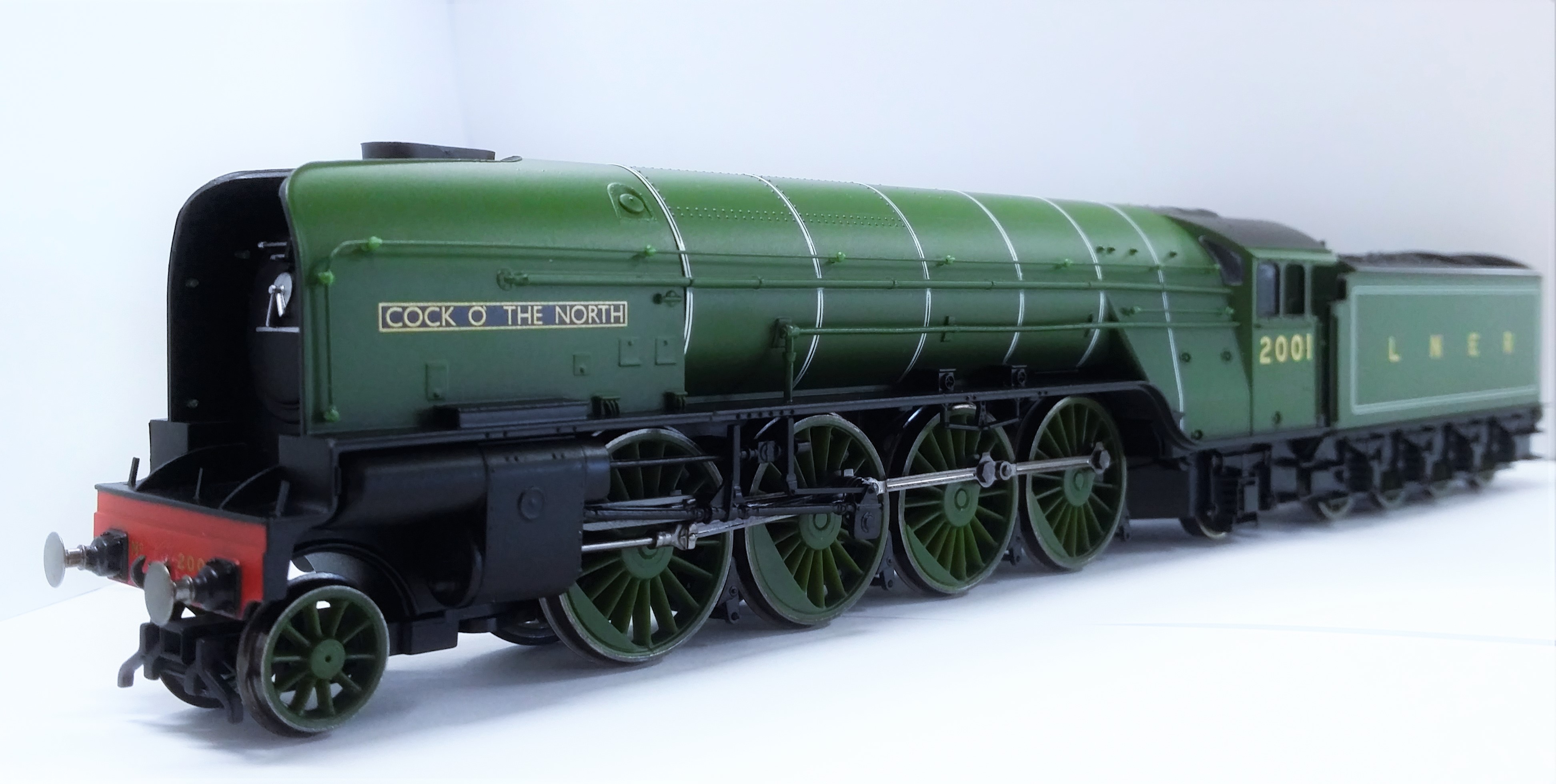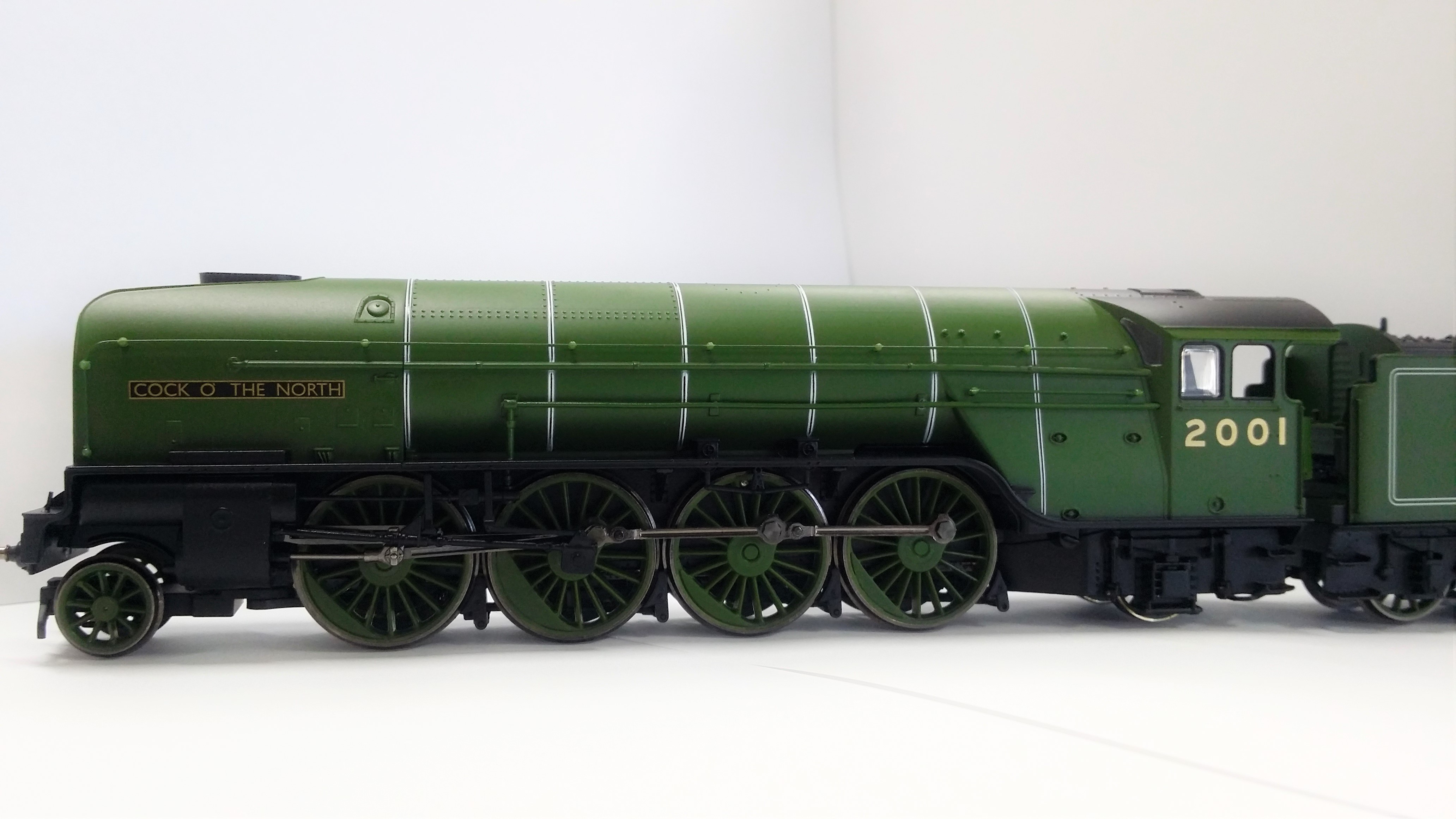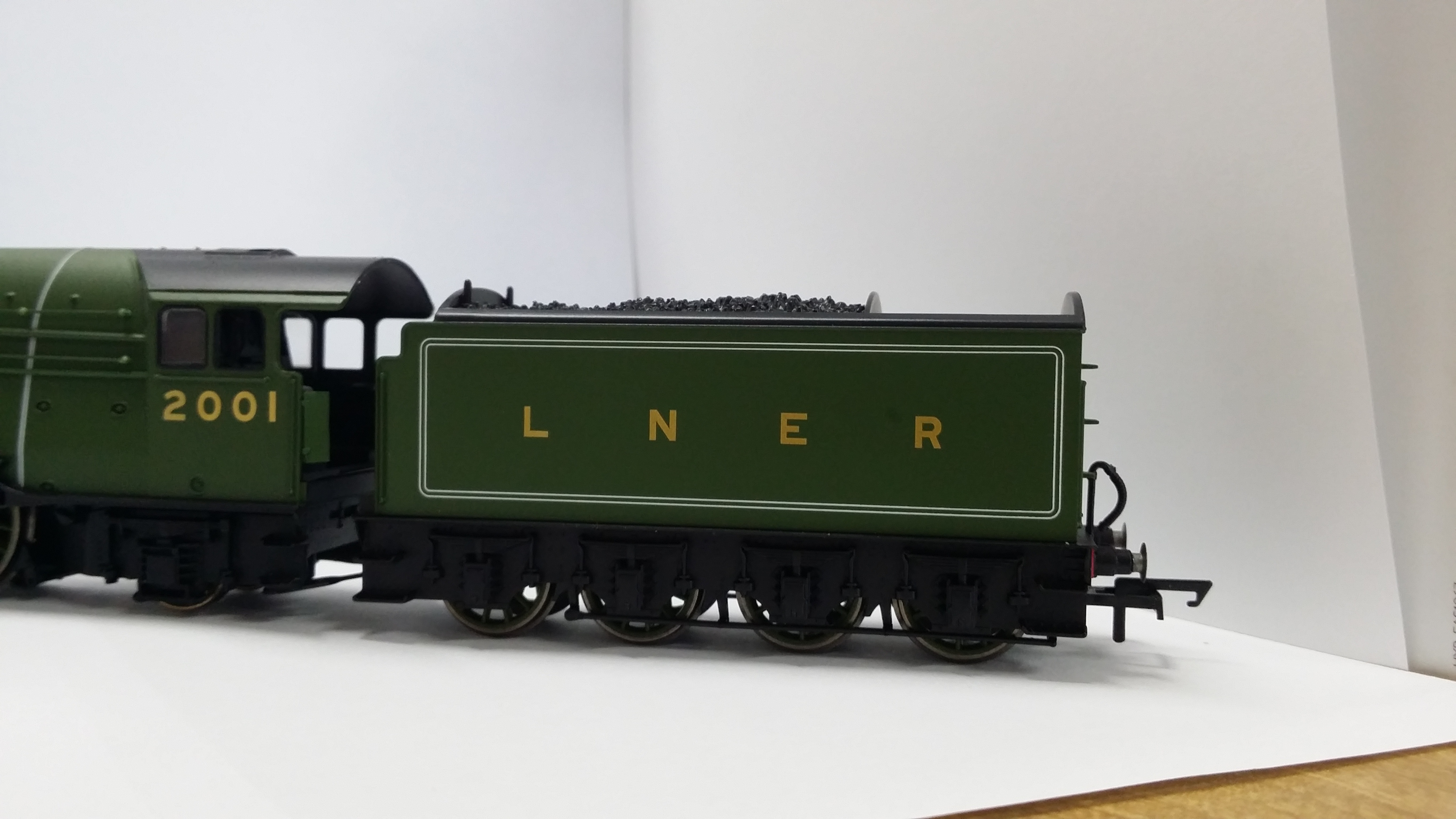 NEW IN STOCK: SEP 24
This wonderful new book from the Modelling the Railways of South Australia Convention has arrived,
The Northern Model Railway Group
The book contains notes and photos pertaining to the activities of the group which model some of the finest prototypical SAR based layouts.
It sold out quickly at the Convention and is now on its second run, get in quick as it will no doubt disappear from the shelves fast!
ARRIVALS SEP 15:
New from Hornby in OO scale is this lovely new steam locomotive, LNER D16/3 no     The model boasts fine detail and superb performance.
OO scale Hornby D16/3
Hornby D16/3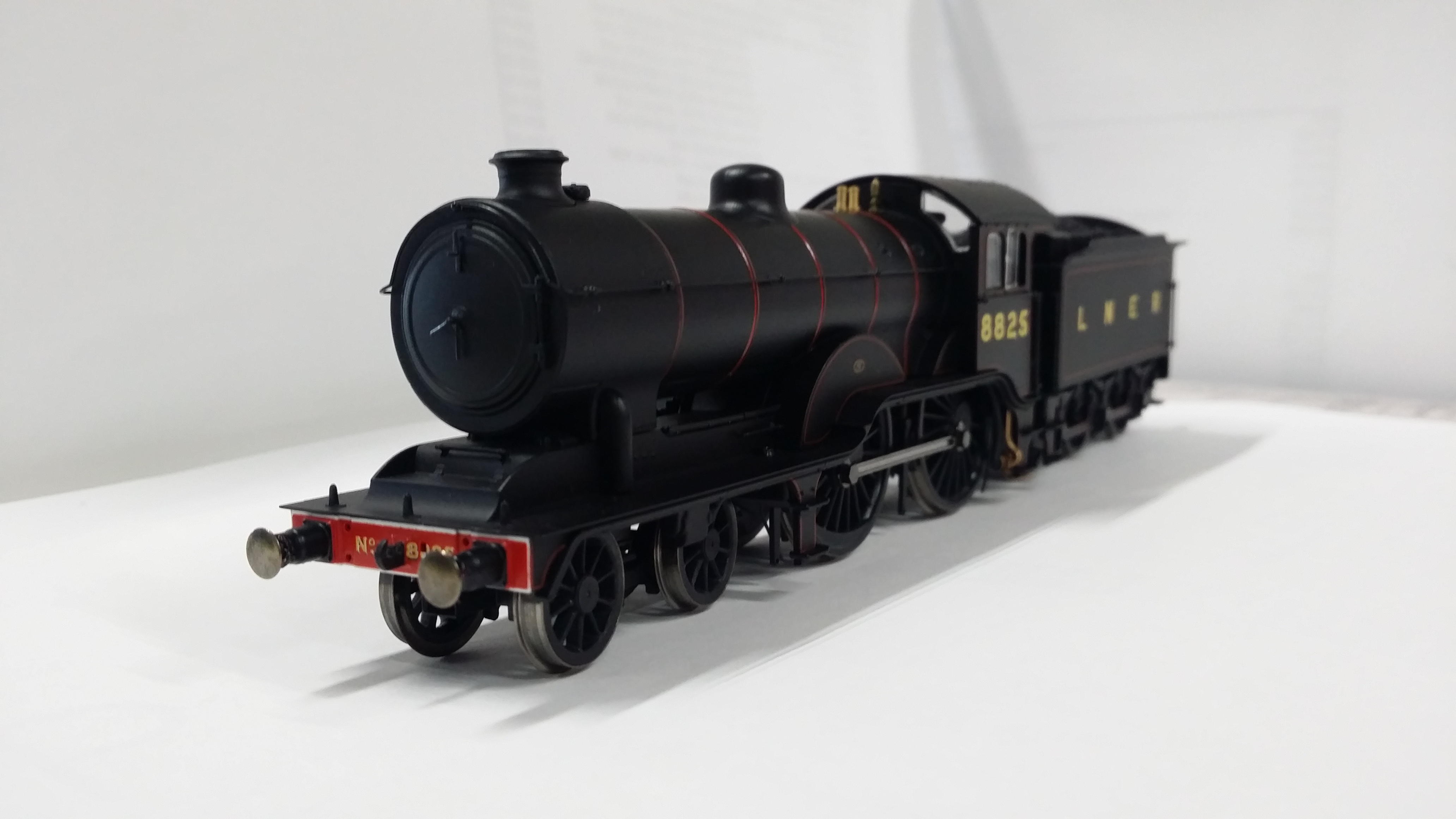 Hornby D16/3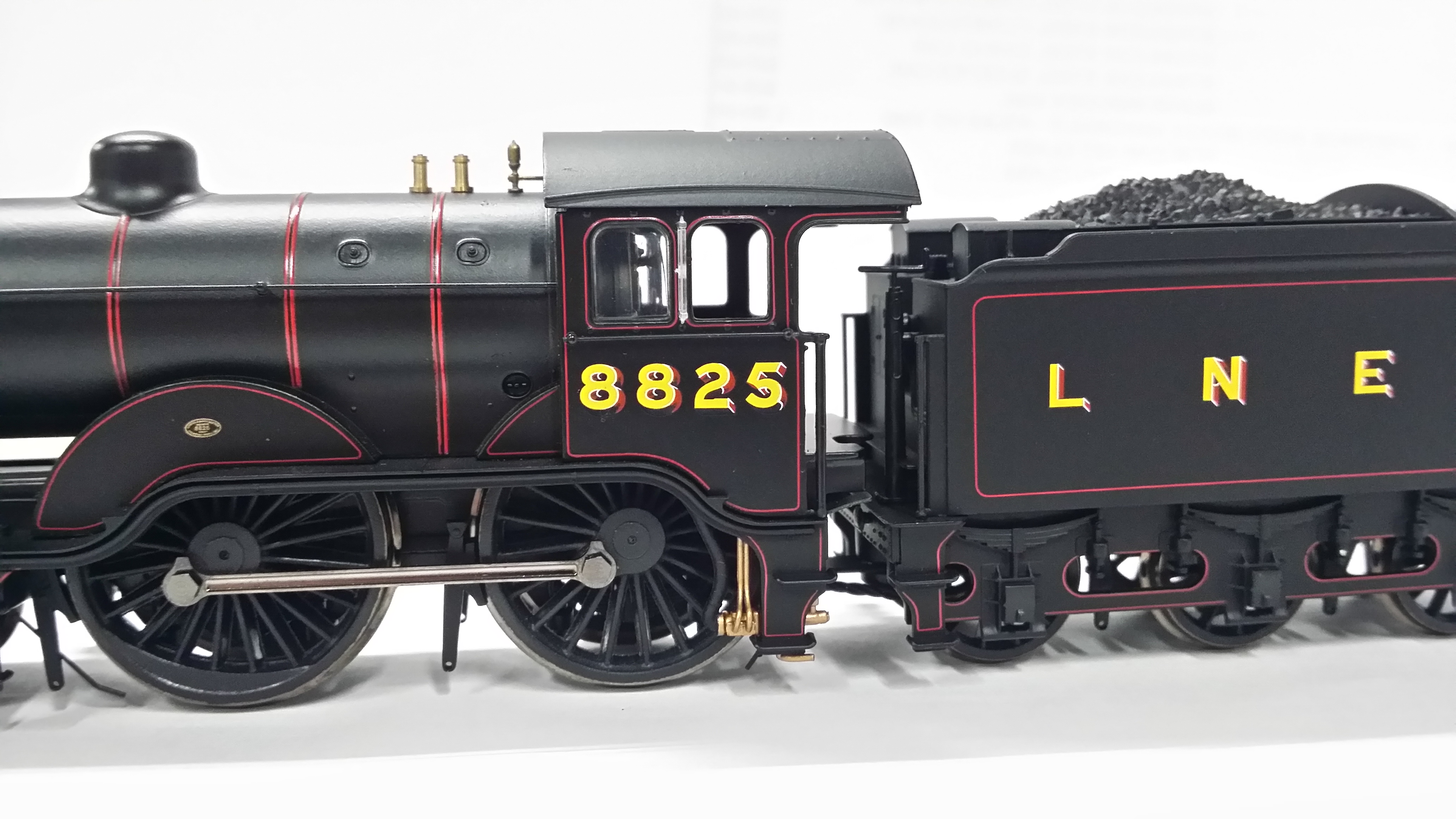 Hornby D16/3
WE NOW STOCK THE "PETER BOORMANS'S WORKSHOP" RANGE OF N SCALE (AND FUTURE HO KITS).
Fresh on the shelves in N scale are SAR Cf and C class Cattle wagon kits, and a twin pack of Overland cars kit.
Please contact us if you would like any specific kits in the range to be ordered for you.